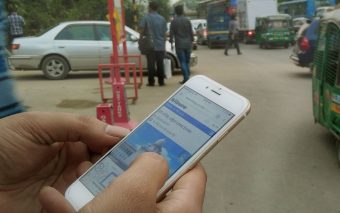 Mobile Is Eating Bangladesh
A Comprehensive Collection of our Coverage of Mobile and and its Impact on Different Industries
Over the past years, Bangladesh has experienced unprecedented growth in mobile phone penetration. According to BTRC, the country has over 117 million mobile phone subscribers and growing. Bangladesh is a true mobile-first nation, according to data from StatCounter GlobalStats, in February 2017, more than 73% of internet users came through mobile whereas the number was only 25% for desktop. Although feature-phone dominates the overall usage, the country has also been seeing an extraordinary smartphone growth, thanks to cheap Chinese handset.
This has implications not only for tech but also for many other industries. People spend an usually high amount of time with their handheld devices. Moreover, mobile allows users to do things on the go. As a result, mobile is changing how we communicate, consume, shop and transact. In the coming years, it will change many other aspects of our daily life.
Understanding mobile and its implications on our life and living is one of our obsessions at FS. Over the past years, we have closely followed the growth of MFS, smartphone, mobile internet, digital health services, various on-demand services and more. And we plan to do even more in the coming years. Below we have put together a list of our mobile coverage to help you navigate how mobile is changing the way we communicate, consume, transact and more importantly live.
1. Mobile Internet
I. Device Most People Use To Access Internet In Bangladesh Proves That We Are a Truly Mobile-first Nation
In February 2017, more than 73% of internet users came through mobile, 25% used desktops and tablet users accounted for under 1%.
II. Mobile Data Business Continues To Grow For Top Three Telecom Operators Despite The Expensive and Poor Nature Of the Service
With the rapid growth of smartphone penetration, the number of people using internet through their handheld devices is on the rise resulting in a sharp growth in data revenue for the operators. Top three mobile operators have seen a steady growth in data revenue since the launch of 3G in 2013
2. Handset market
I. Mobile Handset sales To See 25% Growth In 2017
Handset importers of the country are eyeing a 25% growth in total sales of handsets of all kinds in 2017.
II. Here Is The Growth Of Mobile Handsets Market In Bangladesh
The mobile handset market is one of the fastest growing markets in Bangladesh. One important distinction though is, back in 2012, it was basic phones that came in bulk and today it is smartphones.
III. Symphony and Samsung continue to rule the handset market
Symphony and Samsung continue to rule the handset market in Bangladesh, in both feature phone and smartphone segments. A recent report released by Bangladesh Mobile Phone Importers Association (BMPIA) showed the data.
IV. Smartphone Growth Continues
According to Bangladesh Mobile Phone Importers' Association (BMPIA), smartphones import saw a staggering 57.44% rise in the first half, January to June, of 2016 compared to the same period last year. Around 35.71 lakh pieces of smartphones were imported during this period.
Smartphones Are Pretty Cheap, Yet Unaffordable For Most Average Bangladeshi
The affordable pricing of Chinese manufactured phones has contributed largely to this growth. At $123, the average retail price of a smartphone in Bangladesh is the lowest among 17 developing markets analysed by Mary Meeker's Internet Trends Report for 2016.
3. MFS
I. Mobile Financial Service 101: Major Trends In MFS In Bangladesh
Bangladesh has registered significant growth in adoption of Mobile Banking. This sector posted an average 60%+ growth in all major metric, recent data released by Bangladesh Bank shows.
II. Top Mobile Money Services In Bangladesh By Market Share
Bangladesh accounts for more than 8% of total mobile money accounts globally. The service has grown rapidly, with more than 12 companies offering mobile money services on the market. Competition in the space has heightened in the recent years. Multiple players are now gradually taking into bKash's market share.
III. The Rise Of Mobile Money Services
The first mobile money service, bKash, launched in the country in 2011. It did not take much time to grow. Today, Bangladesh accounts for more than 8% of total mobile money accounts globally. The service has grown rapidly, with more than 12 companies offering mobile money services on the market. We have also seen a rise in standalone mobile wallet services launched in collaboration with mobile money services like Pay 365, Payza and couple more.
4. Remittance
I. Inside bKash's Big Move To Make Remittance Transfer Into Your Mobile Phones A Reality
bKash account holders can now receive international remittance directly on their mobile phones. The breakthrough, result of a collaboration between MasterCard, Western Union and bKash, will immediately benefit 22 million bKash account holders in Bangladesh.
5. Messaging and advertising
I. Infobip, the London-based Enterprise Mobile Messaging Company, Begins Operations In Dhaka
An increasing number of global technology players are showing interest in Bangladesh. Infobip, a London-based company that provides enterprise mobile messaging services in 44 countries opened its office in Dhaka and launched operations in partnership with Wintel Limited, a local mobile content providing company.
II. Inside G&R's Renewed Pursuit To Lead Mobile Advertising In Bangladesh
G&R, largely a PC age company, suddenly saw a soaring mobile user growth and mobile leading the way to more eyeballs. According to data from Bangladesh Telecommunication Regulatory Commission, the number of internet users almost doubled in the last two years; it shot up from 30.48 million in 2013 to 58.31 million in February 2016. Of the 58 million active internet subscribers, nearly 96% are on mobile and more than 10 million use smartphones.
G&R also confirmed that it's mobile inventory surpassed its desktop inventory last year.
6. Health, agriculture, commerce and data 
I. Tonic 101: Inside The Ambition Of Telenor Health
Started in 2015, Telenor Health uses mobile technology to deliver a host of health services in emerging markets. Launched in Bangladesh, its flagship product Tonic now boasts 3 million subscribers and growing.
II. Grameen Intel, Robi Join Hands, Introduces 'Mobile Krishē' For Farmers
Robi Axiata Limited, the second largest mobile operator in the country, has partnered with Grameen Intel Social Business Ltd (GISB) to cooperate with each other on various Information Technology solutions using telecom network to connect the unconnected population including and especially farmers.
III. Smartphones Dominate Global Mobile Travel Bookings
Mobile is changing travel bookings globally. And smartphones dominated several subcategories in mobile bookings. According to a report by Criteo, smartphones dominated hotel and airline bookings globally while package bookings were largely done by Tablets.
IV. Mobile Commerce Is Surging In Asia, Who Will Win In Bangladesh?
An increasing number of consumers in Asia Pacific are embracing new mobile technologies for online shopping, according to a survey conducted by MasterCard on mobile shopping trend in Asia Pacific.
V. How Field Buzz Plans To Revolutionize Field Operations Using Smartphones
Field Buzz is a software system that uses smartphones to help organizations manage their remote or dispersed operations. Field Buzz is flexible enough to be used for most typical "field worker" activities such as registering customers or beneficiaries, tracking which products or services have been delivered where and to whom, tracking payments and credits, conducting surveys and evaluations/inspections, etc. We help customize the system for each organization's specific needs.
7. Transportation and mobility
I. Mobility and Transportation Market Map: 7+ Startups Trying On-demand Transportation in Dhaka
Mobility is a big problem in Dhaka, as we wrote in a recent report. It is hard to get from one place to another and public transportation system is showing little sign of improvement.
Hence, we are seeing an influx in the number of mobility and on-demand transportation services in Dhaka. We have over 9 startups operating in the space.