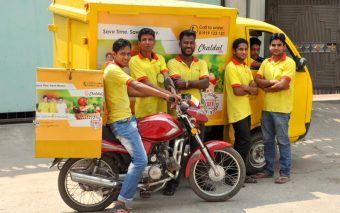 The Journey Of Chaldal
Chaldal was founded in 2013 by Waseem Alim, Zia Ashraf, and Tejas Viswanath. It was the early days of ecommerce in Bangladesh and online grocery shopping was a relatively new thing in Dhaka. It took Chaldal a while to educate the market. Back in 2013, in the early days, the startup was delivering 5 orders a day. Today, it delivers over 2000 orders per day. From a tiny team of five people in 2013, it has grown to a team of over 600 people.
Today, Chaldal's yearly revenues are estimated to be north of 100 crore taka. The company is one of the top-funded startups in Dhaka and has raised multiple rounds of investment from investors like Y Combinator, IFC, and IDLC among others.
Over the past years, we've covered Chaldal extensively. Here are some of our most interesting stories on Chaldal.
Chaldal Founder and CEO Waseem Alim goes deep into the job of a founder, making decisions, hacks to make your life easier as a founder, decision…
Future Startup's Ruhul Kader sits down with Chaldal Founder and CEO Waseem Alim to deconstruct Chaldal's ambition of building a lasting company…
Chaldal, the leader in online grocery, is set to launch Bangladesh's largest E-commerce warehouse in Dhaka today in a move to consolidate its…
Chaldal Co-founder and CTO Tejas Viswanath on how his passion for programming led to what he is doing today, his journey from National University…
Since launching Chaldal in 2013, Zia Ashraf and team Chaldal have successfully positioned it as a leader in the online grocery business in Bangladesh….
Fast-growing local online grocery startup Chaldal is going places. International Finance Corporation (IFC), a member of the World Bank Group,…
Chaldal, the leader in online grocery space in Dhaka, quietly launched a logistics spin-off early this year [Cue: read our coverage of Chaldal]….
Chaldal is one of the fast-growing and best startups in Dhaka in part because it has a growing regular user base and it is good at execution….
Growth is central to any startup. Startups are predominantly defined by the potential of its growth. Despite the paramount importance of growth,…
Raising investment is a common concern for many startups. As Bangladesh's startup ecosystem grows and as we are seeing more and more serious…
Waseem Alim co-founded Chaldal in 2013 and serves as its Chief Executive Officer. Before Chaldal, Waseem worked as Director of Product Strategy…
An increasing number of startups and early stage companies are interested in getting into Y Combinator, the renowned Silicon Valley-based incubator…
'Scarcity of time' is what defines our modern life. And Dhaka is no different. People have a very trifling amount of free time today that they…