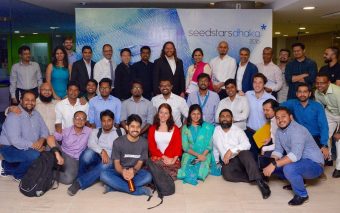 Who Won What At The SeedStars Dhaka 2016: The Complete List Of Awardees
Seedstars Dhaka, the local chapter of global seed-stage startup competition for emerging markets, kicked off its Dhaka chapter competition on Oct 19. After the initial selection event, 4 startups were announced finalists who pitched before a panel of judges and investors on October 21 for the winner title. 
Field Buzz, a startup that helps organizations manage field operations by using smart devices, has been named as the winner. 
There are runner-ups and few other awards for the startups that pitched at the event. Here is a complete list of awardees:
Winner
Field Buzz: Helps organizations manage field operations by using smart devices. It offers sales, surveys, registrations and workflows for field workers using smartphones. Managers can easily keep track of what's happening in the field remotely with web-based Mission Control interface.
Runner Ups
CMED Health
A cloud-based Medical system which claims to below cost, affordable, easy to access for people of Bangladesh to monitor health that can prevent health risk and reduce healthcare cost.
ShopUp
Facilitate social media selling. The startup enables Facebook sellers to have the benefits of an Ecommerce store with options for order tracking, inventory updating, and comment-selling.
Swiss Embassy Award
10 Minute School
One of the fast growing Edtech startups, a web-based educational platform that helps students learn, practice and progress for free.