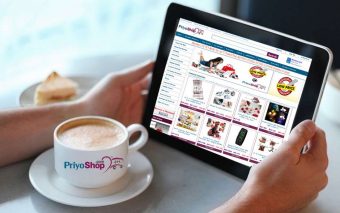 eCommerce Startup PriyoShop Turns 7 This Month, This Is The Founding Story Of PriyoShop
PriyoShop, one of the earliest online retail startups in Dhaka, has turned 7 this month. Founded by Asikul Alam Khan in 2013, the company started its journey out of 600 sq. ft. office and with a tiny 3-member team. Today, it is a team of over 130 people and through its business-to-consumer direct online marketplace platform, PriyoShop offers clothing, fashion accessories, electronics, gadget, bikes, home appliances, daily needs products and everything in between. When we first covered PriyoShop in August 2016, it was doing about 300-500 deliveries per day. Today, it handles over a thousand deliveries per day. From a humble beginning, PriyoShop.com has come a long way.
On the eve of PriyoShop's 7-year celebration, we went back to find out how the ecommerce startup was created.
By registering, you will be signed-up for an account which gives you access to our premium stories published a few times a week and archives of all our premium stories. You will also receive a daily newsletter sent to your inbox. To unsubscribe, please visit the profile section in your account. We have a strong privacy policy. We will never share or sell your data to anyone.
What you get
In-depth actionable analysis
In-depth analysis on startup, business and technology scene in Bangladesh that you would not find anywhere else.
Daily and weekly newsletter
Get our daily and weekly newsletter with our most important stories directly to your inbox.