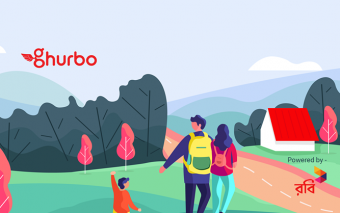 Robi Launches Online Travel Agency Ghurbo, Robi's Motivation, And The Future of OTA
The brief
Robi Axiata Limited, the second largest telecom operator of the country, has launched an independent online travel agency (OTA) aptly named Ghurbo. The agency has a website, ghurbo.com, with limited functionalities and encourages users to download its mobile app. It is hard to know whether this is part of an international mobile-first strategy, but it does mention a long list interesting features on its Google Play app page.
Ghurbo aims higher but for now, Ghurbo.com is offering hotel deals and travel packages only within Bangladesh for Bangladeshi travelers.
Apparently, Ghurbo is open for all. However, apart from regular OTA business, Robi plans to monetize the platform through a subscription service. The idea is to build a freemium service for Robi subscribers. Ghurbo offers a subscription service to Robi users, which is available on daily, weekly and monthly basis. The daily package costs two taka, weekly seven taka and the monthly packs cost 25 taka excluding VAT, Supplementary Duty, and Surcharge. Robi Subscribers who opt in for Ghurbo Subscription will get to avail exclusive deals and discounts on travel packages, get preferential access to travel information, be able to print ticket and email, receive flight notification, choose from special deals, access to the traveler's booking history and receive low fare notification by SMS.
Ghurbo mentions a list of interesting features that it plans to eventually introduce such as: 1) Ghurbo as a virtual travel manager, 2) allowing users to search, compare and book or pay instantly for travel, 3) allowing users to create their own travel plan. Ghurbo's mobile app also allows users to find nearby tourist spots based on their current location, recommends travelers good places, great deals, what to eat and exciting activities to do in a location. It also provides travel insurance coverage.
The Insight Take:
By registering, you will be signed-up for an account which gives you access to our premium stories published a few times a week and archives of all our premium stories. You will also receive a daily newsletter sent to your inbox. To unsubscribe, please visit the profile section in your account. We have a strong privacy policy. We will never share or sell your data to anyone.
What you get
In-depth actionable analysis
In-depth analysis on startup, business and technology scene in Bangladesh that you would not find anywhere else.
Daily and weekly newsletter
Get our daily and weekly newsletter with our most important stories directly to your inbox.
Ruhul Kader is a technology business and technology policy analyst based in Dhaka, Bangladesh. He is also the co-founder and CEO of Future Startup and author of Rethinking Failure: A short guide to living an entrepreneurial life. He writes about internet business, strategy, technology, technology policy, and society. He can be reached at [email protected]