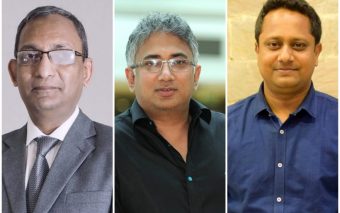 03 Powerful Interviews On Life, Leadership, and Change
Life's Work: An Interview With Dr. Syed Ferhat Anwar, Professor, IBA, University of Dhaka [Read the full interview here]
Dr. Syed Ferhat Anwar is a top-rated professor at the Institute of Business Administration (IBA), University of Dhaka. He is regarded as one of the most influential experts in the field of marketing, strategy, and management in Bangladesh and his ideas have been widely used in organizations and industries across the country. He is author of 3 major books on business management and has over 60 publications in international and national journals.
In this interview Mr. Anwar reflects on his serendipitous journey to teaching, prior to teaching he worked at BRAC- first as a Staff Economist and later as an Export Manager, his idea of teaching as a profession, shares his thoughts on education, our faltering education system that puts undue importance on grades over knowledge and the idea of marketing and changing landscape of the industry, discusses the idea of knowledge economy, the future of Telecom, Banking and RMG and the traits that separate successful companies and explores the eminent importance of having a purpose in life and why forming an opinion is way more important than having one without proper understanding.
The entire interview is a magnificent read in its totality, enduringly excellent, intellectually empowering and a feast for any curious mind. Read the full interview here.
Life's Work: An Interview With Yasir Azman, Deputy CEO and CMO, Grameenphone [Read the full interview here]
Yasir Azman is the Deputy Chief Executive Officer and Chief Marketing Officer of Grameenphone. Mr. Azman is considered as one of the finest business leaders in the country. Within the Grameenphone he is regarded as a transformational leader and change maker with superior execution capacity. Prior to joining Grameenphone, he worked at ANZ Grindlays Bank, British American Tobacco and has an impeccable track record as a result oriented leader who transforms.
In this interview Mr. Azman reflects on his journey to what he is doing today, shares his thoughts on telecom industry, innovation, leadership and strategy, discusses Grameenphone's digital strategy, and future plans of the operator, addresses questions around net neutrality, quality and cost of data service, how Grameenphone tackles classic innovator's dilemma when it comes to innovation, future of its digital services, and explores the eminent importance of hard work and incredible power of our action and why it is critical that our work adds value to the lives of others for a fulfilling life.
While the interview offers a rare window into the inner workings of one of the most important companies in Bangladesh, it is also a ledger of magnificent thoughts on innovation, strategy, and leadership from Mr. Azman. The interview is a compendium of personal anecdotes and lessons, an excellent and intellectually challenging read in its entirety. Read the full interview here.
Life's Work: An Interview With Rasel Ahmed, Founder, and CEO, SystemEye Technologies Limited [Read the full interview here]
Rasel Ahmed is the Founder and CEO of SystemEye Technologies Limited, a hardware and technology solutions provider based in Dhaka. In 2008, Ahmed, a fresh graduate from Rajshahi University where he studied philosophy, came to Dhaka and took his first formal job at a local software company where he used to get a monthly salary of BDT 6,000. He took the job passionately and gave his hundred percent. Although he joined in a software sales position he had to attend customer support work that would usually take long hours after office but Ahmed always regarded it as an opportunity to learn, "I never felt bad for doing extra work and never said that this is not my job because I preferred the learning opportunity", he tells us.
In this interview, Ahmed recounts his journey from his first job to starting his own company, discusses how SystemEye Technology is doing today and his plans for the company, reflects on the importance of loving your work, no matter how minuscule it seems, and giving your best to whatever responsibility you undertake. Read the full interview here.