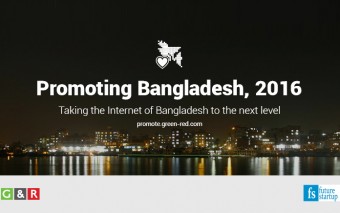 Promoting Bangladesh, 2016: Meet The Judges
Promoting Bangladesh, 2016 is knocking on the door. Applications and Nominations for the program will be closed on 10 January, 2016.
Promoting Bangladesh, an initiative by G&R in collaboration with Future Startup, is a program with a vision to honor and promote excellence on the Bangladesh Web starting with Websites & Mobile Apps.
The program includes a series of initiatives to encourage and support local quality websites & mobile apps to grow and make profit. The broader goal is to empower entire internet ecosystem in the country by promoting local quality works online.
Here is the complete list of Judges for this year's program.
Ivy Huq Russell
CEO, Maya.com.bd
Ivy Huq Russell, a former investment banker, Founded Maya with a vision to empower women through giving them access to information and a shared community. She is also the Managing Director of Maya. As a venture Maya is very interesting in a sense that it has a very compelling value proposition along with a realistic chance to change the way of life of Bangladeshi women for good.
Rezaur Rahman
CTO, G&R
Rezaur Rahman is a systems architect who is defining and implementing web based systems for last 6 years. He loves to learn new technologies and leverages the knowledge in his works. A Bachelor and Master in Computer Science and Engineering, Rezaur started his career as a Software Engineer in 2010 and currently working as CTO at G&R. In his short career, he launched more than thousands of web applications and systems, fulfilling different type of requirements and complexities. He also co-founded Color Talking, a company establishes the up-to-date web standards in Bangladesh with beautiful web applications.
M. K. Aaref
CEO, EMK Center for Public Service and the Arts
M.K. Aaref is the CEO of the EMK Center for Public Service and the Arts, also known as the EMK Center. Under his leadership EMK has become the epicenter of the city's major change initiatives and events. Mr. Aaref is an Architect by profession & training and founder of Aaref& Associates-an Architecture firm that embodies his passion for entrepreneurship. Having the experiences of living in multiple cultures that include the Middle East, England and USA, Mr. Aaref understands universal commonalities of culture and human endeavors.
Shourav Islam
CEO, Unifox Digital Media
Shourav Islam is the founder and CEO of Unifox Digital Media, an online marketing and software development company. Before starting Unifox he worked at Rocket Internet and few other startups of Rocket including Malaysia based Zalora. Shourav has an astounding body of work and a very interesting story. When he was in Singapore looking after the customer experience of Zalora, his inner self persistently advised him to go back to his motherland and do something there that would improve the lives of many. Paying heed to his inner self, Shourav left his highly esteemed job in Singapore that could help him make a fortune. Soon afterwards, he started with a small team to build on his big dream.
Rashed Ahasan
General Manager, Marketing & Sales, Ekattor Television
Rashed Ahasan is the General Manager, Marketing & Sales, at Ekattor Television and looks after the sales and marketing of the company.
Siddiq Abu Bakkar
Managing Director & CEO, Audacity IT Solutions Limited
Siddiq Abu Bakkar is CEO of Audacity IT Solutions, which develops highly polished Android & iOS apps for startups and enterprise to both local & international clients. It's is a 12 people software development company based in Bangladesh.
Mukit Ahmed
General Manager (Head of Social Media), Robi Axiata
Mukit Ahmed looks after Social Media management at Robi Axiata.
Ruhul Kader
Co-Founder & CEO, Future Startup
Ruhul Kader is an Entrepreneur, writer, and Editor of Future Startup. Previously he co-founded and Managed, Good&Green at New Vision Bangladesh Limited. He has written for The Financial Express, Dhaka Tribune, Bangladesh Brand Forum, Business Times and The Practitioner Hub. Ruhul's first book 'Rethinking Failure: A short Guide to living an entrepreneurial life' is now available on Rokomari.
Ibrahim works as an Intern at FS. He takes interviews, writes features, and meets entrepreneurs and makers and doers.