Logistics Remains A Nightmare For Ecommerce In Dhaka And This Startup Aims To Make It Tick
By registering, you will be signed-up for an account which gives you access to our premium stories published a few times a week and archives of all our premium stories. You will also receive a daily newsletter sent to your inbox. To unsubscribe, please visit the profile section in your account. We have a strong privacy policy. We will never share or sell your data to anyone.
What you get
In-depth actionable analysis
In-depth analysis on startup, business and technology scene in Bangladesh that you would not find anywhere else.
Daily and weekly newsletter
Get our daily and weekly newsletter with our most important stories directly to your inbox.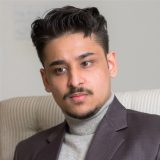 Ramiz is a 21-year-old computer science major from BRAC University. Ramiz spends most of his time researching and analyzing tech startups and the art of entrepreneurship. Ramiz loves to keep up with all the latest tech blogs, the hottest silicon valley startup news, and the Bangladeshi startup scene. Every now and then I also pen my thoughts regarding these topics.