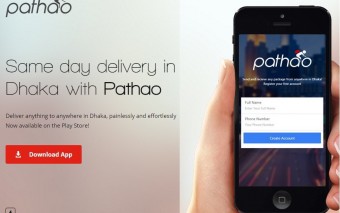 Pathao Is The New Logistics Service In Dhaka
A new delivery service platform called Pathao has launched recently in Dhaka. The service, available via an app, promises same day delivery of your packages within the Dhaka city and also offers tracking option and ensures verified delivery people for security. However, we could not find out more details about how they are doing all these things. We've reached out to Pathao team to know more about this but yet to get a response. We will update this story once we get more information.
Sending things are difficult in Dhaka. Moreover, there is a growing base of ecommerce companies that also need delivery service. There are existing services and few of these services are pretty good but there are scopes to play in this space. Specially, if you are promising same day delivery which is difficult in Dhaka given the traffic condition and cash on delivery mode of ecommerce businesses. However, it seems Pathao is aiming for a B2C market in this space and looking for delivering more small items like flowers and all instead of going for ecommerce delivery.
The following two tabs change content below.
Asmaul Husna is our first Editorial Fellow based in Dhaka. She looks after our Startup and Conversation with entrepreneurs, makers, and experts.
Latest posts by Asmaul Husna (see all)