"There are 55 million young people ages between 15 and 34 in Bangladesh. They are our biggest asset; if each on of them could be motivated to participate in social work and take one daily action, big or small, to make their community a better place, we could transform our nation"~wrote Dr. Badiul Alam Majumdar (Source: British Council, Next Generation Report 2010). As a nation we have high hopes for our youth. We believe this generation will rescue us from the decade long stagnation, political deadlock and misogyny that dominate our society. For better or worse, this has been the demography that helped this nation over and over again in the past. Even then there is a stigma centering the age-'young'. Being young comes with a number of disadvantages. They call-courage without wisdom!
But we are now living in an age of changing. Today 20s are the new 30s. Being young is the advantage. There is no less of young billionaires and makers, innovators, movers and shakers and game changers all around the world. And there is no less of young people doing extraordinary things in Bangladesh. This is the generation with immense potential and opportunity to break the rules and achieve the impossible. This is the generation that will change Bangladesh.
But they need a little space, a little push, and a little support and at times a little recognition and inspiration.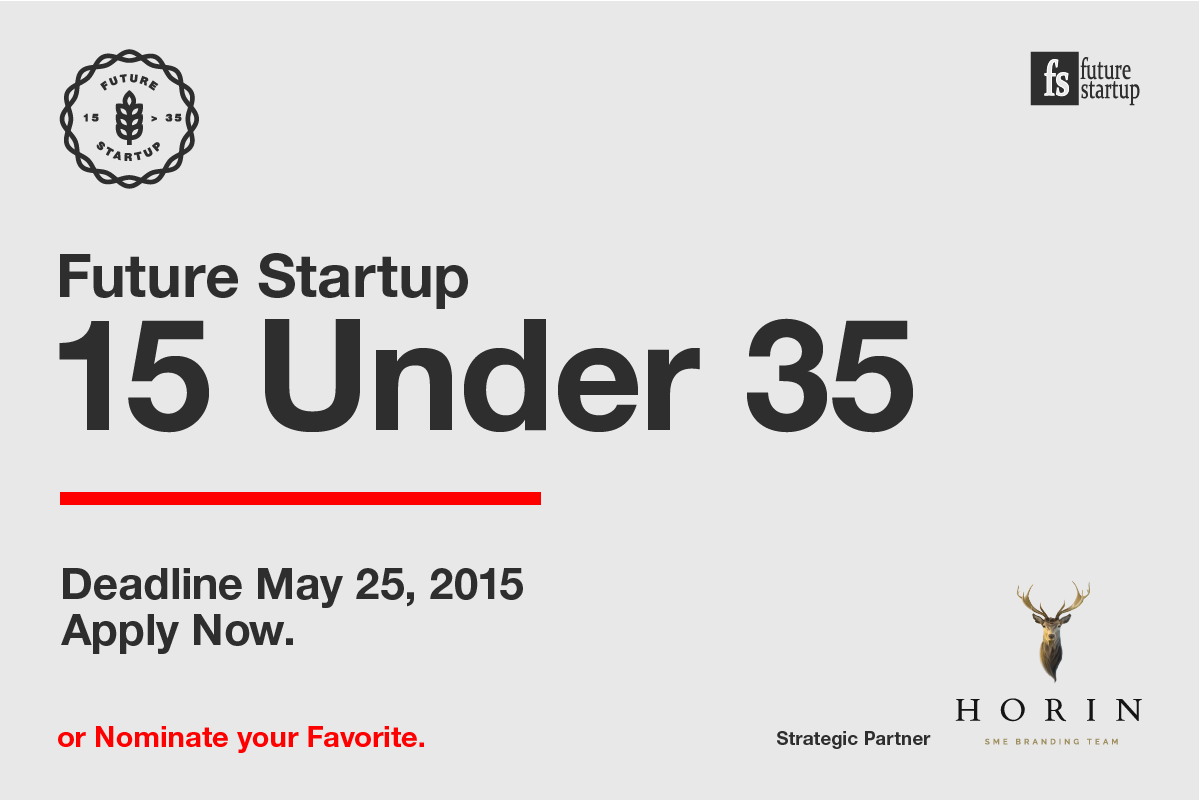 Future Startup 15 Under 35
'Future Startup 15 under 35' aims to bring provocative and inspiring stories of young people doing extraordinary things and taking brilliant initiatives from all over the Bangladesh. The purpose is to recognize and connect those who are doing great things and also to inspire those who aspire to become change makers.
Reasons
Seneca wrote in his famous meditation on life:
It is not that we have a short time to live, but that we waste a lot of it. Life is long enough, and a sufficiently generous amount has been given to us for the highest achievements if it were all well invested. But when it is wasted in heedless luxury and spent on no good activity, we are forced at last by death's final constraint to realize that it has passed away before we knew it was passing.Seneca on Shortness of Life
Being young is an advantage in today's world. You have the opportunity to go beyond rules and fixated thinking and ideas. You have got the opportunity to disrupt.
Most often than not, being young means we seldom learn to take responsibilities. Unlike western society young people in Bangladesh spend a huge chunk of their life not even thinking about life let alone making something their own. When we are young we remain apathetic towards reality of life and importance of time as if we are exempted from all the duties and urgencies of living. Hence mistakes after mistakes follow.
While bring stories of extraordinary young people and recognizing them, our aim is to convince young people that this is the best time to start making things happen and chasing ones dreams.
Fields
We aim to bring as many stories of young people as possible regardless of fields. However, here is a list of fields we are taking submission for the list:
Agriculture

Technology

Education

Marketing and Advertising

Finance

Science and Medicine

Journalism

Entertainment

Art & Culture

Social Entrepreneur
Call For Submission
We can't do this all alone. We need you, your support, your suggestion, questions and your network. Submission for our 'FS 15 under 35, 2015' is open now. You can apply yourself or nominate someone you know who is doing extraordinary work in one of the fields mentioned above.
Apply
If you are someone who is doing extraordinary things in any of these 10 fields or a field we did not mention, please submit away. We consider every submission with great care and we believe 'moving a chair with good intention does some good to the society'.
Please find an application form to be filled here.
Nominate
If you know someone who is doing extraordinary things in any of above mentioned fields, please let us know. It has not to be big initiative but it has to be something he/she is doing with glittering eyes full of passion. For each nomination you will be given credit.
Please find a nomination form to be filled here.
Deadline: 
Deadline for submission is May 25, 2015
Selection Process
The selection process of 'FS 15 Under 35' is a rigorous one. We have a panel of judges with experiences, expertise and wisdom in respective fields. The names of the panelists will be announced soon.
For queries:
For quires please email us at [email protected] or call us at +8801814379595
The following two tabs change content below.
Ruhul Kader
Co-founder
at
Future StartUp
Ruhul Kader is a co-founder at Future Startup. He writes about business with a specific concentration on strategy, technology, and society. He can be reached at
[email protected]
Latest posts by Ruhul Kader (see all)