Bangladesh StartUp Cup Women: Join the movement and know how to start, build, and scale your own business in a (so called) men's world
I don't believe the projection that business is a manly job. It's societal projection and here structure of business is organized around this very idea. But the scenario is changing fast and many women are entering into the world of entrepreneurship. Woman can do business and I'm the proof of that. In Multiplan Center there are 450 shops and I'm the only woman owner. ~
Taslima Miji in an interview with Future Startup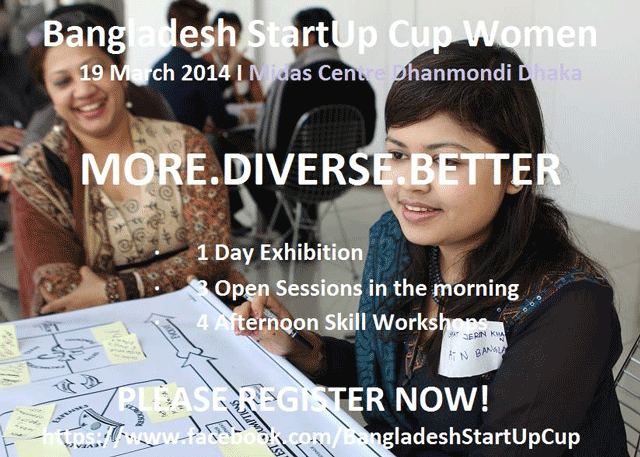 As we are celebrating International Women's Day with an aspiration to inspire change here comes a brilliant opportunity for Women Entrepreneurs and aspiring women entrepreneurs of Bangladesh to know the trick of the game to start, build and scale their own business.
Bangladesh Startup Cup, as part of their outreach events, is going to Organize Bangladesh Startup Cup Women on March 19.
This post will give you a glimpse of the event, registration link and few reasons to attend. For more details please visit their Facebook page here.
What is Bangladesh Startup Cup Women?
Bangladesh StartUp Cup's Women Entrepreneurs Program is the 6th outreach event that will be held on March 19, 2014 in the run up to the launch of the Cup in April 2014.
The purpose:
To inspire women to start and build their own business
To empower and connect women entrepreneurs
To help women entrepreneurs across Bangladesh to start their journey, find diverse areas to do business and reach scale eventually!
To build support network for women entrepreneurs
To showcase businesses of women entrepreneurs
Who will be there:
Successful women entrepreneurs to share their stories and insights
Chambers, Banks, Investors, and Development Partners,
Providers of Support and Services to Women in Business and Policymakers
What you will get by attending:
Inspiration (it's contagious)
Network
Knowledge
Community
Skill development
Who can attend (open sessions in morning are open for men and women both):
Aspiring and wanna be women entrepreneurs: Are you a woman and dream to start your own business?
Women entrepreneurs with existing business: Do you have a startup and want to reach scale? Or showcase your business to inspire others?
Women entrepreneurs who want to scale: Do you want to get the skills to take your business to the next level?
Men and women who support women entrepreneurship in Bangladesh
How to attend:
For Stall Booking: http://goo.gl/AkGz75, deadline: 15 March 2014
Registration for skills workshop: http://goo.gl/b1Cc5S, deadline 17 March 2014
Image by: Bangladesh Startup Cup