Mr. Mallik Samir Tawfik is the CEO of Starpoint Privilege, Bangladesh's 1st and biggest Loyalty Membership Club. He is passionate about learning new things and Networking with other individuals from the corporate sector. His dynamic leadership has ensured Starpoint Privilege to become a big name in the travel and tourism industry of our country over a very short period of time. In a conversation with Future StartUp he explored a lot of issues from personal success to entrepreneurship state in Bangladesh to Entrepreneurial success factors.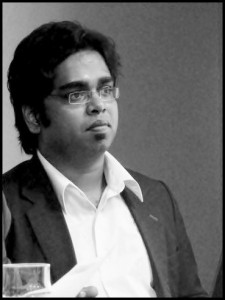 Future StartUp: Tell us more about yourself and your passions in life?
Mallik Samir Tawfik: Well I am a fun-loving outgoing type of person. I love meeting new people, hanging out with my friends whenever I get the time, traveling, listening to any music which suits my mood, watching movies etc. I am passionate about corporate trainings and sports.
F.S.: Tell us more about "Starpoint Privilege" about its past accomplishment & Future plan.
Mallik Samir Tawfik: 'Starpoint Privilege' is the 1st Loyalty Membership Club in Bangladesh which was formed back in March 2009 to cater for the needs of frequent travelers and tourists. We sell an International discount membership card through which our members enjoy great discounts at top domestic and worldwide hotels, resorts, restaurants, car rentals, hospitals, spas etc and Access to worldwide Airport lounges. Additionally our members also enjoy free room nights at top selected 5 star hotels of the country.
Our past accomplishments have been the acquiring of 2000+ customers and satisfying their everyday queries and needs. We have also been successful in signing some big corporate deals with famous companies and tourism service providers. However, our biggest accomplishment would definitely be staying in the business for a 3rd year running since it is a very tough business to run. We have faced several competitors in this business, but nearly all of them ended up closing down since they couldn't compete with our confidence and strategies.
F.S: What inspires you to become an Entrepreneur instead of taking any other easy way?
Mallik Samir Tawfik: I have stumbled upon this question from other people countless times over the past few years. I basically am a graduate in Electrical & Electronics Engineering from AIUB. However I started working part-time in 2006 at Dhaka Sheraton hotel (presently Ruposhi Bangla hotel) in the membership card sales department. I was real passionate about my job always and end up being the best sales-person among 30 employees. This sales track fascinated and motivated me at the same time. So henceforth I started dreaming of owning a company one day so that I could create more employment opportunities and always stay involved in the sales sector of our country. And thus, my company was born.
And taking the easy way or shortcut is never the wiser way since results will also be short-term. I believe if an individual wants to become successful then they just have to work hard, and trust me – at the end of the day the hard work pays off.
F.S: How did you come up with the idea of Starpoint Privilege?
Mallik Samir Tawfik: My previous job in Dhaka Sheraton hotel was related to the business category of Starpoint Privilege. However that company was International and they had only come in Bangladesh with a 1 year contract. After they left, I noticed a good demand among the local clients for such a company and hence Starpoint Privilege was born.
F.S: After you came up with the idea, how did you get started? Please walk us through what the first few months of your journey were like.
Mallik Samir Tawfik: Me and one of my business partner used to work together at Dhaka Sheraton hotel. Both of us came to agree on starting the business. We would sit and make plans in tea-stalls and local food hotels since we didn't have a office. I remember waking up at 6 Am everyday and coming back home at 1 Am in the night after countless meetings and plannings during the whole day. We even spent days when we forgot to eat anything.
At first the journey was real tough. Most of my ex-colleagues tried de-motivating me, but I was focused on the dream. Once we had a concrete plan the investment was arranged and our very first office at Banani was taken. Sales-people, Admin staff, Accounts staff etc were hired and we officially started our operations on 22nd March 2009. The first 3 months were real tough in which we faced huge losses, but we still believed in ourselves and eventually our business took a green turn and the company became bigger.
F.S: What were the biggest obstacles you faced in your journey to date? And how did you overcome them?
Mallik Samir Tawfik: The biggest obstacles we have faced are the normal problems which every business faces in our country. To sum it down it would be Electricity problems, Water problems, Strikes, Security issues etc. But we took everything positively and eventually overcome all the problems to a big extent.
Life will always throw problems at you. All you have to do is to take the problem with a smiling face and solve it.
F.S: What would you say are the biggest drivers of your success today?
Mallik Samir Tawfik: Well I have a lot of inspirations in my life. My business partner Iqbal bhai has always believed in my sales qualities and supported me always. My ex-boss Mr. Mark Monsur was always a inspiration and even today he keeps in touch with me suggesting what to do and what not to do. My parents and 2 sisters who have always believed in me. Some of my close friends Toufique, Tasir, Shafaq, Himel, Bony, Nafis, Sabrina,Shoaib, Rajib, Sefat, Taleb, Rushdi, Salauddin, Sagar etc who have always been there to support and motivate me. (Sorry if I left out anyone's name)
F.S: You are the CEO of Starpoint Privilege, certainly there were lots of ups & downs before you come in today's position. Did you feel frustration or fear of failure any time during your journey? If yes, then how did you outperform them?
Mallik Samir Tawfik: Sometimes there are moments when you feel like the whole world is against you. However I have always taken the support of positive minded people whenever I was down. Being in a positive minded circle or surroundings will surely put your feelings up and drive frustration or fear of failure away in no time.
FS: Tell us briefly about your biggest experiences and learning.
Mallik Samir Tawfik: My biggest experience and learning by doing this business has been the gaining of huge knowledge of the travel and tourism industry of our country and also worldwide. Now I can judge the quality of a hotel, resort, restaurant etc just by hearing its name or I can even tell what different customers are looking for whenever they are traveling etc. These are just some of the wonderful learnings I have gained through my experience of the past 3 years.
F.S: Let's say if you can start all over again what are the three mistakes you avoid and what are the three positive things you would do first?
Mallik Samir Tawfik: I cant recall of too many mistakes I have done while starting the business. However if there was one mistake I would avoid, that is not to have faith in the wrong people. Not all that glitters is gold.
Some of the positive things I would do is to get more involved with the corporate sector from Day 1, Attend more corporate trainings and work more hours.
FS: What are the biggest obstacles for young Entrepreneurs in Bangladesh in your eyes?
Mallik Samir Tawfik: There are 2 big obstacles most young Entrepreneurs face while starting up a business. Number 1 would be lack of faith and support from the family. And Number 2 would be lack of self-confidence in themselves.
F.S: Advice our "Young Startup Entrepreneurs" who are just going to start their Initiatives and want to bring them to success.
Mallik Samir Tawfik:Have faith in yourselves. NEVER and I mean NEVER let anyone take away your motivation or dream. If you have a dream then fulfill it at any cost. The road to success will be a tough one, but then again remember this is the way of life.
Try to get more involved with University Clubs in student life. This gives you a chance to become more outgoing and to also improve your inter-personal skills.
After student life get involved with the Alumni associations of your school, college and university. Also get involved with International Youth Associations such as JCI and UNYSAB. I personally am a member of JCI for the past 2 years and have gotten a lot from the association, met wonderful people from other business sectors, attended fabulous trainings and also contributed in making our community a better place to live in.
And lastly, use the Social Networks such as Facebook, LinkedIn and Twitter more effectively.
F.S: From your perspective what are the 5 mandatory traits/capabilities for a youth change maker/entrepreneur to become successful?
Mallik Samir Tawfik: Well, it is difficult to pick but though I think followings are critical-
a) Always be self-motivated
b) Plan your business or work effectively to every little detail
c) Always be outgoing and learn to mingle with people quickly and effectively
d) Join as many University Clubs, Alumni Associations, Business Associations to develop a strong corporate network
e) See your business or work as your child. The more time you give it the bigger and better it becomes. The more you neglect it the worse it becomes until one day it dies off.
F.S: Thank you for giving us your valuable time.
Mallik Samir Tawfik:Thank you too.