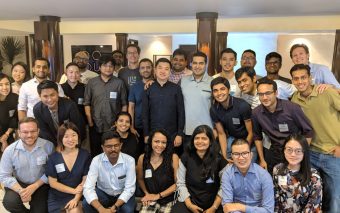 Weekly Review #12: The Most Important Tech News Analyses Of The Week
1. Zanala Bangladesh, Digital Communication, And Entrepreneurship With Tamzid Siddiq Spondon, Managing Director, Zanala Bangladesh

We published the part one of our long-form conversation with Tamzid Siddiq Spondon, Managing Director of Zanala Bangladesh on September 19, 2018, covering the beginning of Zanala Bangladesh, becoming of Tamzid, and the rise of Zanala as a digital content management and communication consultancy company. It is a beautiful and worthy read. Try it here. In this second installment of the interview we dive into the Zanala Bangladesh, how it operates as a company, the state of communication industry in Bangladesh, how Zanala has been dealing with the changing landscape of communication business, Zanala Systems – Zanala's technology enterprise, how Mr. Tamzid and his team had overcome common challenges of building a company in the early days, Zanala's ambition going forward, why hustle is the ultimate antidote to all your challenges and why complacency is a threat you should always be aware of and the importance of living a disciplined life while pursuing an entrepreneurial life and much more.
2. Grameenphone Launches GP Accelerator 2.0

Grameenphone has announced a new version of its Grameenphone Accelerator program dubbed GP Accelerator 2.0 with a few consequential changes. This year, with the launch of Grameenphone Accelerator 2.0, Grameenphone takes a step further to reach out to tech innovators and startups across the country and help them transform their ideas to minimum viable products […]
3. Microsoft Gets Serious About Its Cloud Business In Bangladesh, Announces First Cloud Innovation Summit In Dhaka

Microsoft Bangladesh has announced today that it will host first Microsoft Cloud Innovation Summit in Dhaka on 29th April 2019 at Bangabandhu International Conference Center. The day-long summit plans to explore themes around cloud, Microsoft products, Azure, cloud innovation, cloud, cybersecurity, and a financial sector focused breakout session on banking in the digital age. "In the age of business transformation, connecting people, products, ecosystems, and ideas are vital to success—and technology plays a critical role. Microsoft Cloud Innovation Summit is your opportunity to pose the tough questions you've always wanted to ask and get insights directly from technology and industry experts" the company wrote in an email sent to industry insiders.
4. HandyMama: Your Home And Office Assistant 2.0

HandyMama has helped thousands of households and businesses save time and be productive while it takes care of their cleaning or home appliances fixing, plumbing, property management, painting or any other maintenance job. HandyMama not only connects households and offices to trusted service professionals (it calls taskers), but it also helps them save time, improve productivity and keep home and office tied up. Here's how HandyMama is reshaping how you find and use home services in Dhaka and helping households and offices bend time, relax, improve productivity and get more done for the better.
5. 7 Interesting Things You Should Know about Chaldal

Chaldal was founded in 2013 by three friends Waseem Alim (CEO), Zia Ashraf (COO), and Tejas Viswanath (CTO). It was the early days of ecommerce in Bangladesh and online grocery shopping was not a thing in Dhaka yet. It took Chaldal a while to educate the market. In the early days, the startup was delivering 5 orders a day. Although the online grocery market today is nothing compared to physical retail, Chaldal has come a long way from where it was in 2013. Today, it delivers around 2000 orders per day across Dhaka city. From a tiny team of five people in 2013, it has grown to a team of over 600 people. The company has raised multiple rounds of investment from investors like Y Combinator, IFC, IDLC and more. It is the first Bangladeshi startup to attend prestigious incubator program Y Combinator. The story of Chaldal is an interesting one and offers valuable lessons for founders on how to approach building startups.
6. The IKEA Effect: How We Value The Fruits Of Our Labour Over Instant Gratification

The IKEA effect says 'that labour alone can be sufficient to induce greater liking for the fruits of one's labour'. Shutterstock By Gary Mortimer, Queensland University of Technology; Frank Mathmann, Queensland University of Technology, and Louise Grimmer, University of Tasmania There are some anecdotes just so good that almost every story about a particular economic […]
Ruhul Kader is a technology business and technology policy analyst based in Dhaka, Bangladesh. He is also the co-founder and CEO of Future Startup and author of Rethinking Failure: A short guide to living an entrepreneurial life. He writes about internet business, strategy, technology, technology policy, and society. He can be reached at [email protected]