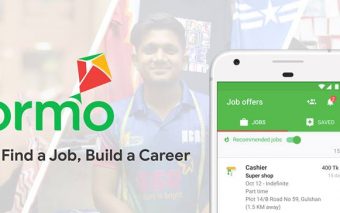 Jobs and Careers Marketplace Kormo Aims To Fix Old School Hiring With Technology And Build An Aggregator In The Process
Kormo, the marketplace for informal sector and urban jobs, was formally launched in September 2018 in Dhaka. We ran quite a comprehensive story on the day Kormo launched. From Google Launches Informal Sector Focused Job Marketplace Kormo In Dhaka:
"In a move that is likely to have a significant impact on how people find jobs and employers hire in the informal sector in Bangladesh, Google has officially launched a new job marketplace in Dhaka for the informal sector jobs, aptly named Kormo. The mobile-based platform will connect job seekers and employers while also helping job seekers to level-up their skills by providing career development tips and information. Kormo has been developed under Google's Area 120, an incubator program that deals with developing new innovative solutions for emerging markets inside Google."
In simple, Kormo is a two-sided marketplace serving job seekers and businesses. It aims to solve multiple consequential problems for each side of its platform. Although it plainly describes itself as a "jobs and careers app that connects job seekers to businesses", its ambitions are higher.
Job as a category is critical and interesting for several reasons.
By registering, you will be signed-up for an account which gives you access to our premium stories published a few times a week and archives of all our premium stories. You will also receive a daily newsletter sent to your inbox. To unsubscribe, please visit the profile section in your account. We have a strong privacy policy. We will never share or sell your data to anyone.
What you get
In-depth actionable analysis
In-depth analysis on startup, business and technology scene in Bangladesh that you would not find anywhere else.
Daily and weekly newsletter
Get our daily and weekly newsletter with our most important stories directly to your inbox.
Ruhul Kader is a technology business and technology policy analyst based in Dhaka, Bangladesh. He is also the co-founder and CEO of Future Startup and author of Rethinking Failure: A short guide to living an entrepreneurial life. He writes about internet business, strategy, technology, technology policy, and society. He can be reached at [email protected]