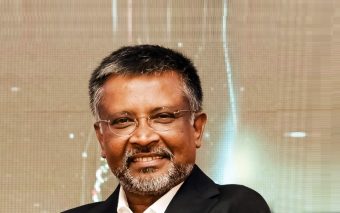 Life's Work: An interview with Prabeer Sarkar, Founder and CEO, Dhaka Distributions (Part 01)

Prabeer Sarkar has seen it all in life. He lost his father when he was 13 years old. "I terribly miss my father even these days when I see a child walking on the street holding his father's finger." Life was tough but it was kind as well. His mother, who remains one of the biggest influences in his life, sacrificed a lot to ensure a good education and a good life for Prabeer and his sister. After graduating with a degree in English Literature from Dhaka University, he started his career as a banker in 1986. Two and a half years into banking, he became a programmer. He then left his banking career to become a full-time programmer at a World Bank-funded project. After leaving the World Bank project, he worked for a private technology firm for a brief period before starting his own venture. In 1994 with 19 thousand taka in pocket, he ventured out into his own entrepreneurial journey.
From a student of English Literature to a banker to a programmer to an entrepreneur, Prabeer has taken anything but a traditional path. This nature of defying convention is unsurprising as it serves as a defining thread of Prabeer's life, including his endless transitions from one way of living to another, getting into one uncharted territory after another, his fascinating for cybersecurity and his contribution as one of the leading software and cybersecurity entrepreneurs in Bangladesh.
Prabeer Sarkar is the founder and CEO of Dhaka Distributions, a cybersecurity company in Dhaka. In this interview, he reflects on how his early life experiences shaped his future, his journey to what he is doing today, beginning of his entrepreneurial journey, the impetus behind starting Dhaka Distributions, the current state of Dhaka Distributions, its business and ambition going forward, his future plans for the company, talks about his management philosophy, biggest lessons from his journey so far and how he looks at the idea of leadership and life and how a strong sense of our own limitations can help us live a meaningful life.
The entire interview is sublime, insightful, and intellectually empowering. We believe Prabeer's story will elevate you and inspire you to choose life over mere living.
By registering, you will be signed-up for an account which gives you access to our premium stories published a few times a week and archives of all our premium stories. You will also receive a daily newsletter sent to your inbox. To unsubscribe, please visit the profile section in your account. We have a strong privacy policy. We will never share or sell your data to anyone.
What you get
In-depth actionable analysis
In-depth analysis on startup, business and technology scene in Bangladesh that you would not find anywhere else.
Daily and weekly newsletter
Get our daily and weekly newsletter with our most important stories directly to your inbox.