2018 was a fascinating year for us at FS in many ways. We have expanded our coverage and delved into industries like FMCG, finance, telecom, food and learned a ton. Food is one of the most promising and interesting sectors that we came to see closely in 2018 through our regular coverage as well as a research project that we conducted on the food processing industry in collaboration with the EMK Center. We have covered giants like Pran, Kazi Food Industries, ACI as well as small upstarts like Khaas Food, Chaldal.
Overall, food as a business is going through a tremendous transformation. Once a rare thing, CPG has become a norm in the industry. Smaller players are increasingly making concessions to the big players while big players continue to expand their product line and reach. The industry is just getting started. According to some estimate, the average growth rate of the food processing industry is about 8%. The total size of the domestic market is about US$2.2bn (AVC, 2011). But these numbers do not give you the full picture of a burgeoning sector. Some of the subsectors, for example, frozen food, is growing at a 16% rate annually.
We spoke with a long list of industry insiders and entrepreneurs in order to understand the pulse of the sector and here some of the major trends that we believe will share the business of food in Bangladesh in the coming days.
(1) A growing middle class with increased purchasing power
A 2017 report from the Boston Consulting Group (BCG) describes Bangladesh as "the surging consumer market nobody saw coming" and suggests that the population of "middle and affluent consumers" (or MACs) has grown to about 12 million people or about 7% of the population in Bangladesh. Most importantly, that middle-class base is growing at a rapid pace at around 10% or 11% per annum. "If Bangladesh can maintain this pace, its MAC population will grow by 65% over the next five years," says BCG. "By 2025, it is expected to nearly triple, to about 34 million."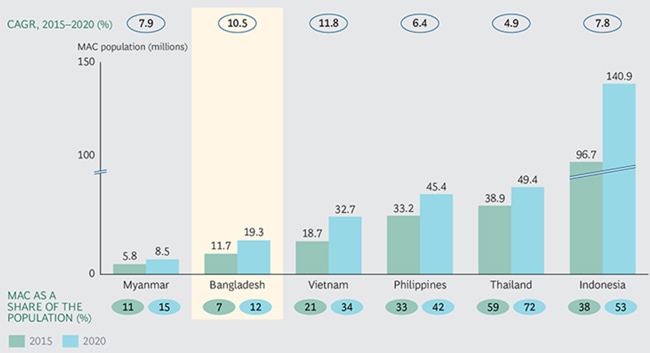 If this trend continues this will not only change the dynamics of the food business in Bangladesh, it will also change the dynamics of many other industries. But the most immediate impact of this change will one the food sectors because people will start spending more on food and that too on what they feel better for them.