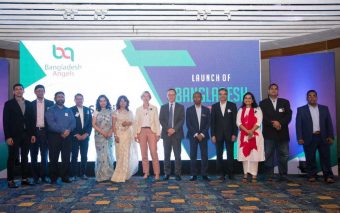 Bangladesh's First Angel Investment Network Bangladesh Angels Launches In Dhaka
Bangladesh Angels, Bangladesh's first angel investing network, was inaugurated at Radisson Blu Dhaka Water Garden on 4th October, 2018. In attendance were angel investors, venture capitalists, financiers, entrepreneurs and other stakeholders from both Bangladesh and abroad. H.E. Harry Verweij, the Ambassador-Designate of Kingdom of the Netherlands, and Mr. Kazi M. Aminul Islam, Executive Director, Bangladesh Investment Development Authority, delivered remarks as Special Guest and Chief Guest respectively.
Bangladesh Angels aims to play a critical role in the startup funding ecosystem by connecting angel investors who want to invest in early-stage businesses with promising early-stage entrepreneurs. The network will identify such enterprises, support them in seeking funding, provide mentorship and provide transactional support to angels. Besides evangelizing startup funding, it also plans to organize knowledge forums and enabling exchange programs with international angel networks.
What you need to know
This is first such initiative in Bangladesh. The platform aims to bring together the leaders in the local entrepreneurial ecosystem and global partners and nurture the innovation and entrepreneurship in Bangladesh by connecting startups to both local and global investors.
The platform aims to provide three supports to startups related to raising investment: 1) fundraising – helping founders access to capital 2) advisory – pre and post-investment support to startups and 3) network – build and give startups access to the largest network of angel investors in Bangladesh
The network looks to invest in deals between the range of Taka 80 Lakhs to 5 Crores, across all sectors.
In addition to funding, it will also provide high quality mentoring and access to networks and strategic support to the portfolio companies.
The network has a governing board, which includes stakeholders such as Minhaz Anwar (CEO, Betterstories), Samad Miraly (Cofounder, Startup Dhaka), Tina Jabeen (Investment Advisor, Startup Bangladesh, ICT Division), Sajid Rahman (CEO, Telenor Health) and Sanchayan Chakraborty (Partner, Aavishkaar).
Bangladesh Angels appointed Nirjhor Rahman, former Country Manager of ygap Bangladesh, as CEO of the network
The Bangladesh startup ecosystem has gained significant traction recently with a number of incubators, accelerators as well as venture capital and private equity firms. "These are critical developments in the path towards becoming a middle-income country, complementing the long-standing tradition of enterprise and entrepreneurialism of the private sector in Bangladesh," according to H.E. Harry Verweij, who delivered the opening remarks. "Unfortunately many of these entrepreneurs struggle to make themselves bankable because of a lack of business know-how and ability to get finance. Organized platforms like [Bangladesh Angels] are critical" in enabling wider participation of both investors and entrepreneurs to jumpstart entrepreneurial activity, he said. He continued that the Netherlands Embassy is "proud to support this initiative, which is being backed by Dutch Good Growth Fund (DGGF)." DGGF is a program of the Dutch Ministry of Foreign Affairs which facilitates development-oriented trade and investment, that is backing Bangladesh Angels through its technical assistance program managed by Aavishkaar Venture Management.
Bangladesh Angels will be an independent Bangladeshi network with a separate legal entity, local team and governance structure, guided by eminent startup investors and mentors with extensive experience building the start-up ecosystem in the country. The governing board includes eminent stakeholders such as Minhaz Anwar (CEO, Betterstories), Samad Miraly (Cofounder, Startup Dhaka), Tina Jabeen (Investment Advisor, Startup Bangladesh, ICT Division), Sajid Rahman (CEO, Telenor Health) and Sanchayan Chakraborty (Partner, Aavishkaar). Guided by the governing board, the network will provide end-to-end investment readiness support to entrepreneurs, while working with angel investors to identify, negotiate, close and monitor investments, often through syndication.
"Investments rates into Bangladesh are increasing, and more and more international capital is finding its way to the country. But for young entrepreneurs, there still remains a critical gap in funding that traditional finance cannot meet. Angel investing, therefore, can be an important bridge that not only provides flexible capital but mentorship to young entrepreneurs as they establish themselves," said Mr. Kazi M. Aminul Islam, Executive Chairman, Bangladesh Investment Development Authority, in his closing remarks.
Prospective angel investors and entrepreneurs can go online to sign up for the network or apply for funding via www.bdangels.co. The network will have its first closed-door session between vetted start-ups and investors in January 2019.
Update on October 7th at 1:52 PM: The story has been updated with new information along with views from Bangladesh Angels
Cover photo by Bangladesh Angels | Bangladesh Angels From left to right: Samad Miraly, Sanchayan Chakraborty, Minhaz Anwar, Jayesh Parekh, Naima Chowdhury, Tina Jabeen, Akkie Okma, H.E. Harry Verweij, Kazi M. Aminul Islam, Sajid Rahman, Maliha Quadir, Tanveer Ali and Nazmul Karim