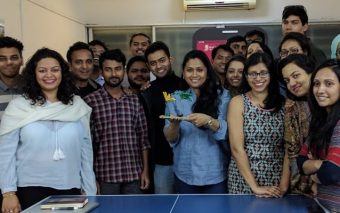 Maya Apa Becomes The First Bangladeshi Startup Accepted Into Google's Launchpad Accelerator Program
Maya Apa, the anonymous messaging platform that connects users to experts, has been selected for the 5th cohort of Google's Launchpad Accelerator program, a six-month-long business building program designed for emerging market startups. The program will start on 29 January, 2018. Maya Apa is an intelligent digital well-being assistant that connects users with real doctors and therapists. (Read our complete coverage on Maya Apa here)
Launchpad Accelerator, a program designed and run by Google, is a six-month program "that matches top growth-stage startups from emerging ecosystems with the best of Google – its people, network, and advanced technologies – to help scale great products."
The program includes "an intensive two-week bootcamp in San Francisco and mentoring from 30+ teams across Google and expert mentors from top technology companies and VCs in Silicon Valley and globally. Participants receive equity-free support, credits for Google products and media training, and continue to work closely with Google back in their home country."
Maya Apa is the first startup to join Launchpad Accelerator from Bangladesh.
Maya originally started as a content-based women focused platform in 2009. Founded by Ivy Huq Russell, a former investment banker, the earlier iteration of the platform wanted to "empower women through access to information and a shared community." However, the startup has recently pivoted to a more general but pragmatic direction and now describes itself as "anonymous messaging platform that connects users to experts".
The startup raised an investment of BDT 4 crore from BRAC, the number one NGO in the world, at an undisclosed valuation early this year.
It has also partnered with Robi and launched a premium messaging service named 'May Apa Plus'. Under the collaboration, users can now avail Maya's on-demand information service about health, psycho-social and legal through SMS.
Cover photo: Maya Team by Maya
Ruhul Kader is a technology business and technology policy analyst based in Dhaka, Bangladesh. He is also the co-founder and CEO of Future Startup and author of Rethinking Failure: A short guide to living an entrepreneurial life. He writes about internet business, strategy, technology, technology policy, and society. He can be reached at [email protected]