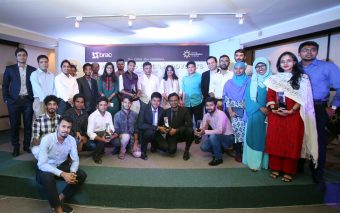 BRAC Announces Winners For Urban Innovation Challenge: The Complete List Of Startups In The First Batch Of UIC
BRAC announced the first batch of winners for its Urban Innovation Challenge, a program designed to incubate and support early stage social enterprises developing innovative solutions to the growing challenges faced by the people living in cities across Bangladesh On May 7, 2017. 5 teams, out of 13 finalists, have been selected for a six months incubation program.
The program, launched as a competition in October 2016, offers a platform to innovators, young entrepreneurs and university students who are interested in solving urban problems in three specific problem areas: health, transportation, and informal sector employment.
The winners will develop prototypes and test their product in collaboration with BRAC in the next six months, receive co-working facility, mentorship, skills development and other supports along with a grant amount up to BDT 5 lac. In addition, the program will also connect startups with potential investors and stakeholders.
The complete list of startups.
Bhumijo
The web and app-based platform aims to establish hygienic and secure public toilets for women through public-private collaboration where restaurants in Dhaka will open their lavatories to the public for a nominal fee.
Bloodman
An app and web-based database of blood donors along with their contact information where people can send a request to blood donors. GPS integration in the app will help find the nearest donors and collect their responses. There will also be a call center in place for further help.
Driver Mela
An online marketplace for connecting skilled and verified drivers and people who are seeking drivers. Almost similar to DriverBD.
Servicing Campus
Plans to create service campus and technical training facility for school drop-outs in all across the country, particularly outside Dhaka where work opportunity is limited, and to provide certification and employment opportunities to technicians who work in the informal sector.
Amarbike
An online bike-hailing service in Dhaka. It allows users to hail a motorbike ride for a fast, reliable and cheap ride in Dhaka. The startups still in beta stage and yet to open up the platform for freelance bikers. [Read our mobility and transportation market map here]
Image: BRAC Blog