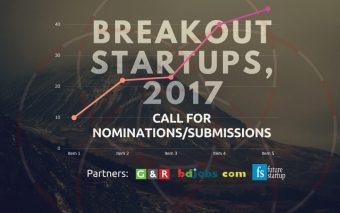 Breakout Startups 2017: Call For Nominations/Submissions
We published our debut Breakout Startups list in 2016. It received quite a good attention. This year, we plan to do more. Breakout Startups is our annual list of startups that are doing remarkably well and have potential to grow big.
We are looking for startups that have done exceptionally well in 2016, growing fast, have got the potential to go big, and are solving important problems. We are looking for companies that will make bigger news profile in the coming years.
We are sectors and technology agnostic. Anyone or any company can apply or nominate a startup if it meets the criteria.
[By startup, we mean fast growing early stage company regardless of sector. The company you are submitting or nominating can be a tech or tech-enabled or non-tech company but it has to have the potential to grow fast and grow big.]
The purpose is to recognize and help these startups to get attention. This means we are interested in what people are building in Bangladesh and also in connecting them with more users and right people who can help them to grow big.
Criteria:
Companies that are in business for at least a year.
Companies that have done exceptionally well, in-terms of growth and sustainability, in 2016
Companies that will make bigger news profile in the coming years
Sectors: Any
Founded and incorporated in: Bangladesh
Rewards:
The each selected startup will receive following benefits:
BDT 50,000 worth of Bdjobs.com job posting credit, G&R Ad credit, and year-long strategic and media support from Future Startup
Access to top entrepreneurs and VCs in Bangladesh
Call For Submissions
We can't do this all alone. We need you, your support, your suggestion, questions and your network. Submission for our 'FS Breakout Startups, 2017' is open now. You can submit your startup or nominate your favorite one.
Apply/Nominate 
If you are building a great startup and it is over one year old, please submit away. We consider every submission with great care and we believe that small is beautiful and every great company starts small. Apply here.
Or
If you know a great startup doing great work and building extraordinary things, please let us know. It has not to be big initiative but it has to be something that has got the potential and has been growing fast. Nominate here. 
Deadline
Deadline for submissions is March 07, 2017
Partners:
G&R is the first and leading ad network and platform for advertisers and publishers in Bangladesh. It empowers brands in the digital age and helps entrepreneurs and companies to tell their stories to 65 million internet users in Bangladesh through sophisticated targeting and its wide publisher network. You may know more about G&R here.
Bdjobs.com Ltd. is the first and leading career management site in the country. It is one of the most successful internet companies in Bangladesh. It helps the job seekers manage their career more efficiently and the employers to solve many of the problems associated with traditional recruiting methods and allow them to save time and money. You may know more about Bdjobs.com here.
For queries and partnership
For queries and partnership, please email us at [email protected]