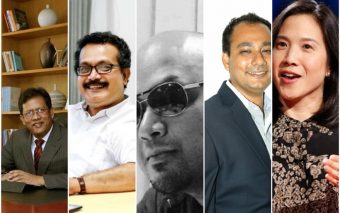 The Stories Of Makers: From The Founder Of A Group Of Companies To Insight Into Psychology Of Success
In October, we published some of our best interviews yet. We learned what it takes to build and manage a group of companies from CEO and Chairman of Bestway Group, how MOCCs is changing the way we learn from the Founders of Coursera, the value of speed and networking when it comes to building an advertising empire from WPP's Sir Martin Sorrel, the changing landscape of marketing in Bangladesh from IDL CMO Jane Alam Romel, what it takes and means to raise money from Angel investor and Chairman of Mir Group Shama-e-Zaheer, the art of building an innovative and fast growing social enterprise from Dnet's Ananya Raihan and the psychology of success from Angela Duckworth.
These are the Face to Face interviews you loved in October 2016.
An Interview With Md. Mizanur Rahman Of Bestway Group [Read the full story]
Serial Entrepreneur, Investor, Founder, Chairman, and CEO of Bestway Group, Md. Mizanur Rahman, reflects on how his early years in Rajshahi shaped his future, how struggles and difficulties of life determine who we become, what initially drew him to business and entrepreneurship, journey of Bestway Group, how Bestway Group works hard to maintain the agility as a large organization, his management philosophy, his take on the future of youth and Bangladesh and the most important things you need to do in order to build a successful business.
Coursera's Andrew Ng: How MOOCs Are Taking Local Knowledge Global [Read the full interview]
In an interview about MOOCs and their impact, Ng says they allow universities to take their great content and project it onto a larger audience than they ever did before. A recent study co-authored by Wharton professor Ezekiel J. Emanuel on the impact of MOOCs on traditional business education, also found that rather than poaching students, MOOCs complement, enrich and help business schools reach new diverse audiences.
An Interview With Sir Martin Sorrell, CEO, WPP [Read the full story]
For anyone unfamiliar with WPP it may come as a surprise that the world's largest advertising firm started off as Wire and Plastics Products plc, a British company selling wire shopping baskets. Looking for a corporate "shell" in which to grow the business, Martin, formerly finance director at Saatchi & Saatchi, bought a stake in the company in 1985.
An Interview With Jane Alam Romel, Group Chief Marketing Officer, IDLC [Read the full interview]
Group Chief Marketing Officer Of IDLC, Jane Alam Romel, reflects on how his years at North South University shaped his life, what initially drew him to marketing after studying Finance and HR, his experience of working in diverse industries and how life's challenges make us who we are, his take on marketing and changing landscape of marketing technology in Bangladesh, what it takes to design a great communication effort, and the most important lessons for aspiring marketers.
An Interview With Shama-e-Zaheer Of Mir Group [Read the full story]
Chairman of Mir Group, entrepreneur and angel investor, Shama-e-Zaheer, reflects on the importance of angel investment, what he looks for when he decides to invest in a startup, importance of having a sound operational model, maturity of local startups in Dhaka, what makes a great founder and his advice for early stage entrepreneurs.
An Interview With Dr. Ananya Raihan of Dnet [Part I] [Read the full interview]
Social entrepreneur, Economist, and co-founder of Dnet, Dr. Ananya Raihan, reflects on his early life, professional choice of economics and development, serendipitous journey into the world of technology, the birth and early days of Dnet, struggles and pains of working on a new idea, building Dnet as an innovation hub, and Dnet's approach to innovation, measuring impact, incubating ideas and launching spin-off ventures.
'Grit': Why Talent Needs Drive to Succeed [Read the full interview]
What is grit? Angela Duckworth, a psychology professor at University of Pennsylvania's School of Arts and Sciences, says it is the capacity to work hard and stay focused.
In her recent book, Grit: The Power of Passion and Perseverance, she explains why grit is necessary in addition to talent, and why talent needs the drive that grit provides in order for one be successful. Duckworth, a 2013 MacArthur Fellow, discussed her ideas on the [email protected] show on Wharton Business Radio on SiriusXM channel 111.