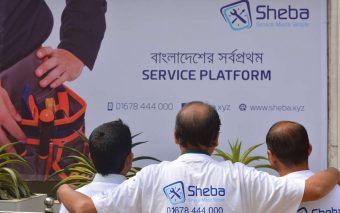 Inside Sheba's Bold Plan To Simply Service In Bangladesh: An Interview With Adnan Imtiaz Halim
Meet Sheba, the new on-demand service marketplace in the country that aims to redefine and simplify how you find and avail services in Dhaka. The startup, launched commercially on Friday, July 29, connects service providers from a wide range of categories, including plumbing, electrical, catering, home arrangement etc, with the households and organizations that need such services.
Founded by Adnan Imtiaz Halim, Sheba is one of the five startups graduated from GP Accelerator's first batch. The startup piloted its service in Mirpur DoHS area for past couple of months and now covers entire Dhaka.
Adnan Imtiaz Halim, CEO of Sheba, spoke to Future Startup about Sheba,how it came to exist and problems it is solving, challenges and vision, how it works and the future plan.
Future Startup: Briefly tell us about Sheba and the problem you are trying to solve.
Adnan Imtiaz Halim: Sheba.xyz is an online service marketplace in Bangladesh that connects households and businesses with the best service providers in the country. We strive to bring convenience to your doorsteps, we offer you all the services you need under one integrated service platform.
We value our customer's time and work harder to ensure top notch quality and uncompromised safety. We make sure that our customers get the best service every time they avail our service.
Sheba also strives to bring positive social impacts by creating entrepreneurs and increasing employment opportunities in Bangladesh. We train unskilled and semi-skilled labors and help them to have a better life.
At Sheba, we are solving a problem that we come across every day. It is hard to find a cleaner / electrician/ driver who is reliable and can do a fantastic job. That is true for many other services that we need in our daily life.
We realized that this is an interesting problem that needs a fix. After analyzing the situation, we came to understand that while there are lots of service providers, the information about their services is either unavailable or many of them are simply not reliable.
So, we thought this was a problem worth solving. That's how Sheba came to exist. We aim to make the whole process of finding and availing service convenient and eliminate all the fuss once and for all. In other words, Sheba makes the process of finding the top quality and reliable service professionals simple and the entire process is transparent and convenient.
FS: How does Sheba work?
Adnan: Sheba.xyz brings the best service providing companies and individuals under one platform so that users can compare and choose their ideal solution without going through the hassle of searching multiple websites or physical locations. Saving your time and maintaining the quality of service is our number one priority. We only hire the best and most reliable service providers.
We thoroughly verify each and every service provider [s] on our platform and of our partner companies. Our process is 100% transparent as you will know beforehand all the details of what you are paying for.
Availing our service is simple: customers can place orders through call center (09610-444-000) or website (www.sheba.xyz) or android app (sheba.xyz) or even through our Facebook page. We have physical booths in some selected locations where customers can place orders too. We are offering a range of services, you may find a complete list on our website.
We receive orders from 8:00 AM to 10:00 PM, 7 days a week. Our CRM (customer relationship manager) assist customers finding the most suitable partners until the task is delivered based on his/her requirement.
We work hard to ensure that our customers receive best of quality, get more options to choose from. We accept online payment, POS, MFS and Cash on Delivery. This month, we are launching EMI options.
FS: You have raised money, would you please tell us a bit more about funding rounds?
Adnan: We have successfully completed seed and Pre-series-A round. We have raised total $225K at the current valuation of $1.2M.
FS: You started with beta testing your service in a location in Dhaka and now you just launched commercially. What is the response from the market so far?
Adnan: During our Beta testing phase, we have successfully delivered over 2,500 services. We have 57 renowned service providing companies on board and more is in the pipeline. The response from the market is good and we are confident.
FS: What are the few critical challenges for now?
Adnan: It's hard to convince people that you can avail services from an online platform since people are not used to buying service like any other commodity. On the other hand, there is a lack of commitment and professionalism on the service provider's' end, like technicians, plumber, and cleaners don't take a job that seriously.
Educating customers and maintaining the service quality are the two biggest challenges for now.
Good thing is that people are receptive to good ideas and we are receiving a lot of positive feedback and leads which give us every reason to be confident and optimistic about the future.
FS: What are the future plans?
Adnan: Sheba aims to be the go-to online marketplace where customers can compare and choose their ideal service provider [s] from a range of the best service providing companies and providers in Bangladesh.
In the immediate future, we want to establish Sheba as your personal assistant that helps you to find and avail best service provider for your daily service need. As a brand, we want to be the first name that comes to mind whenever you need any form of service.
For now, we are welcoming top service providers on our journey and working hard to live up to our promise of providing top quality, reliable and transparent service and make service simple.
In the next 6 months, we are expanding our services to Chittagong which will be followed by other districts of Bangladesh soon. Apart from business, we have a target of creating 10,000 new employment opportunities in Bangladesh by 2018 and create new entrepreneurs through training and constant development.