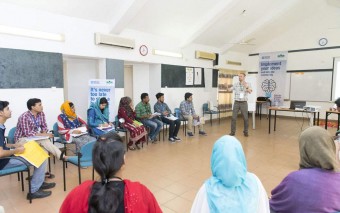 These Are The 9 Teams That Attended British Council's IIG Boot-camp 2016
British Council Bangladesh, in partnership with ChangeMaker (a national non-profit organisation), launched 'Innovate, Incubate and Grow (IIG): A Social Enterprise Support Programme' on Saturday, 16 January 2016.
IIG is a capacity-building programme specially designed to enhance the social and environmental problem solving knowledge and skills of young entrepreneurs through sustainable business models.
The competition, nation-wide in scale, invited innovative, unique and pragmatic ideas developed by promising young social entrepreneurs. In conjunction with the call to submit the social enterprise idea, 24 shortlisted participants with 9 innovative social enterprise ideas finally got the call to attend a five days long boot-camp and intensive training in social enterprise delivered by UK experts to enhance their skills and develop their business plan before a final pitching session in front of a panel of judges from February 12 to 16. Below is the complete list of teams attended the 5 days long boot-camp: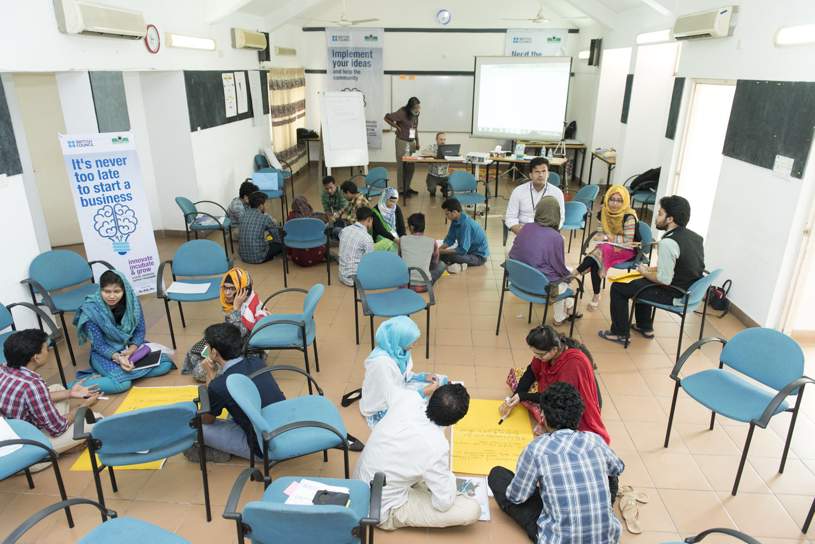 Happy [Organic vegetables]
Producing and marketing vegetables free from chemical and pesticides.
Book Heaven
Book center where people will be able to relax and read in a comfortable environment. Mobile library will be created to reach out people in remote areas. Moreover, an online platform will be created in order to facilitate exchanging books in community level.
Bondhon
Plans to build a platform in order to bridge the gap between elderly people and young generation.
Vision
Plans to train and create employment opportunities for unemployed, over aged, under aged and disable people of tea garden during their leisure time.
Nagorik Help Desk
A platform with web and mobile application through which people will be able to report any issues/problems/incidents. The platform will be connected with the govt. /local service providers so that emergency services can be provided. There will be status update each of the issues.
Soudagar
Saudagar aims to ensure future employment of the undergraduate students by providing them relevant skills and by establishing job market linkage with national and multinational companies for creating job opportunities. placement event.
POKA
A social market for vegetables and crops free from chemical pesticide. Poka will ensure healthy food for customers by establishing a market place.
The Green Fighter
The social enterprise will produce green vegetation in terrace/rooftop of the buildings.
Butterfly
Create roadside vegetable shops to help organize street vendors of similar products and create a marketplace for them.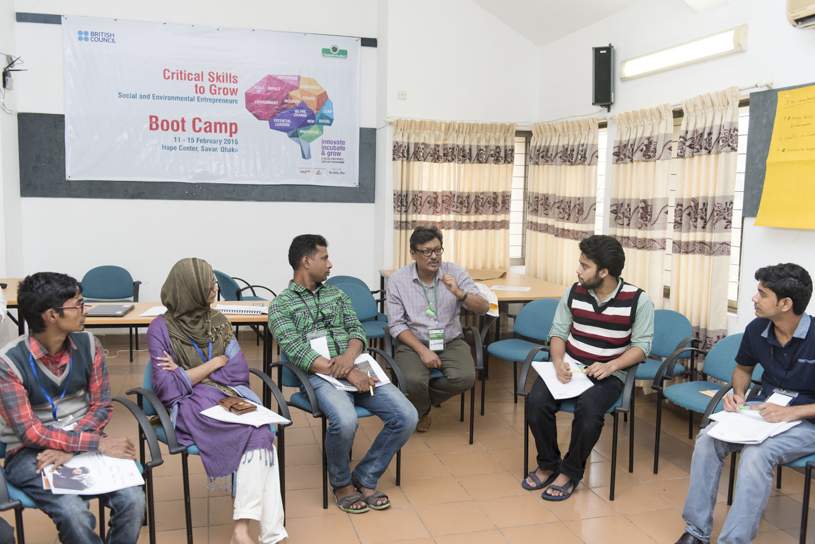 Innovate, Incubate and Grow [IIG], a part of the British Council's Social Enterprise Capacity Building and Business and Investment Readiness Programme (BiR), is a distinct social enterprise support programme designed to enhance the entrepreneurial knowledge and skills for solving social and environmental problem with a sustainable business model.
The competition aims to develop the capacity of young and potential social entrepreneurs by raising awareness and understanding of social enterprise.
Ibrahim works as an Intern at FS. He takes interviews, writes features, and meets entrepreneurs and makers and doers.