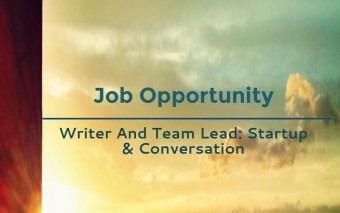 Job Opportunity: Writer And Team Lead- Startup & Conversation
Future Startup invites applications for the following position "Writer And Team Lead: Startup & Conversation" at Future Startup
Duties And Responsibilities
Use community engagement approach to identify, and connect with startups and entrepreneurs

Develop daily, weekly, and monthly content plans for startup and conversation category

Understand and analyze taste and demand for content among readers/audience

Generate, edit, and publish articles, stories, and interviews in startup and conversation category

Plan distribution strategy for said content categories and implement it.

Experiment and come up with new content and genre ideas to create social content

Design strategy to collaborate with brands and organizations to support the said categories

Evaluate and prepare monthly reports on standard, reach, and impact of the content categories
Requirements
Master or Graduate or ongoing undergrad students.

Previous experience in writing in English

Strong IT skills.

Familiarity with business Journalism

Excellent interpersonal skills.

Strong verbal and written communication skills.
Helpful
A laptop

Ability to manage multiple projects at a time

Have a sense of responsibility and a knack for getting things done on time
Job Location: Dhaka
Time Commitment: Part time
Ideal Start Date: 15 August, 2015
What You Get
Utmost support to develop yourself personally and professionally

Work with the fastest growing new media startup in Dhaka

Work and build invaluable connection with entrepreneurs and relevant stakeholders

Salary Range: 8,000 -12, 000 (Negotiable)
Application Procedure
Step 1: Please fill up the information form by visiting-goo.gl/forms/rSTZjU1X8k
Step 2: Send your resume by email, with "Application for Writer And Team Lead: Startup & Conversation" in the subject line, to [email protected]
If you have any questions, please contact, [email protected]. The subject line of your email should read "Writer hiring query."
The following two tabs change content below.
Ruhul Kader
Co-founder
at
Future StartUp
Ruhul Kader is a co-founder at Future Startup. He writes about business with a specific concentration on strategy, technology, and society. He can be reached at
[email protected]
Latest posts by Ruhul Kader (see all)