Making ideas happen: How to build a rock solid routine to maximize your productivity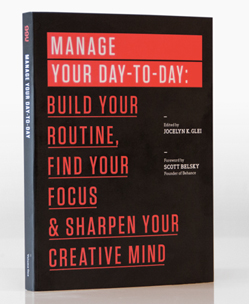 "How we spend our days is, of course, how we spend our lives" claimed Annie Dillard. So it's important to remain conscious and make our best effort to get fullest out of every minute we live. To do so we must maximize our productivity and facilitate a habit of becoming productive. However, productivity demands trade off to happen. In a world of ubiquitous distraction we must act on a routine that suit our personal taste and priority and that helps us to find our sweet spot.
Once again Behance's 99u.com-the digest of insight on making ideas happen-offers us a true jam on making our days and maximizing our capacity.
By registering, you will be signed-up for an account which gives you access to our premium stories published a few times a week and archives of all our premium stories. You will also receive a daily newsletter sent to your inbox. To unsubscribe, please visit the profile section in your account. We have a strong privacy policy. We will never share or sell your data to anyone.
What you get
In-depth actionable analysis
In-depth analysis on startup, business and technology scene in Bangladesh that you would not find anywhere else.
Daily and weekly newsletter
Get our daily and weekly newsletter with our most important stories directly to your inbox.
Ruhul Kader is a technology business and technology policy analyst based in Dhaka, Bangladesh. He is also the co-founder and CEO of Future Startup and author of Rethinking Failure: A short guide to living an entrepreneurial life. He writes about internet business, strategy, technology, technology policy, and society. He can be reached at [email protected]