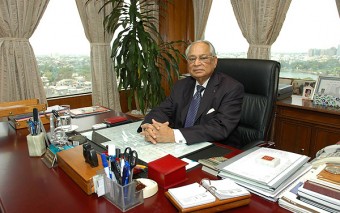 A Brief History of SQUARE
SQUARE Group is one of the largest and oldest conglomerates in Bangladesh. Over the past years, it has been able to build a strong brand image in the country while also growing at a consistent rate. The beginning: SQUARE Pharma started in 1958 as a partnership firm. Today, it has 14 different companies, each operating independently.
From 1958 till these days, the company has shown impeccable performance inside and outside the country. SQUARE Pharmaceuticals has been the market leader in the pharmaceutical industry since 1985.
This brief history of SQUARE is prepared mostly based on secondary information from various sources including sfhconseil.com and intends to offer a basic understanding about SQUARE.
1925: The eldest son of Eakub Hussain Chowdhury and Latika Chowdhury, Samson H Chowdhury was born at Aruakandi in Gopalganj.
Samson H. Chowdhury:
A lot of credit goes to the brilliant leadership of Late founder of SQUARE, Samson H. Chowdhury, without whom SQUARE would never be as big as it is today.
1943:
– Passed Matriculation exam from Ataikula School of Pabna
– Joined the Royal Indian Navy
1946: He was an active participant in the Naval mutiny against the British colonial rule.
1947:
– Joined postal department as a government employee
– Got married to the 15 years old Anita Biswas at the age of 22
1952: Started looking after his father's medicine shop 'Hossain Pharmacy' at Pabna
1958: Samson H Chowdhury and his 3 friends, Dr. Kazi Harunur Rashid, Dr. PK Shaha and Radha Binod Roy, started SQUARE Pharma as a partnership business with a total initial investment of Rs 17,000
1962: Opened a branch in Hatkhola road, Dhaka
1964: SQUARE pharma was transformed into a private limited company with authorized capital of Rs 500,000 and paid up capital of Rs 400,000.
1974 & 1982:
– Started Technical Collaboration and became licensee with Janssen Pharmaceuticals, Belgium, a subsidiary of Johnson and Johnson International, USA
– Licensing Agreement signed with F. Hoffmann-La Roche Ltd., Switzerland.
1985 & 1987:
– Achieved first position in the Pharmaceutical Market of Bangladesh among all national and multinational companies.
– Became pioneer in exporting pharmaceutical products from Bangladesh.
1988: SQUARE Toiletries was launched as a separate company.
1991: SQUARE Pharmaceuticals went public
1995: Chemical Division of SQUARE Pharmaceuticals Ltd. starts production of Active Pharmaceutical Ingredients (API).
1997:
– SQUARE Textiles Ltd launched
– Won the National Export trophy for exporting pharmaceuticals.
– Mediacom Ltd was established
1998:
– Received 'Business Executive of the Year' award given by American Chamber of Commerce in Bangladesh (AmCham)
– Agrochemicals and Veterinary Products Division of SQUARE Pharmaceutical started its operation.
2000: SQUARE Spinning Ltd. began its Journey
2001:
– US FDA/UK MCA standard new Pharmaceutical factory was launched which was operation built under the supervision of Bovis Lend Lease, UK.
– Signed agreement with ROVIPHARM, Vietnam to manufacture and market SQUARE products under license in Vietnam.
– SQUARE Consumer Products Ltd. started its operations
2002:
– SQUARE Knit Fabrics Ltd. was established.
– SQUARE Fashions Ltd. began operation.
– SQUARE InformatiX was established.
2003:
– Management Agreement with Bumrungrad Hospital International of Thailand for the management of SQUARE Hospitals Ltd.
– SQUARE Pharmaceuticals obtained ISO 9001:2000 Certification.
2004: SQUARE Pharmaceuticals Ltd was enlisted as UNICEF's global supplier.
2005:
– SQUARE Cephalosporins Ltd. went into operation which is built under the supervision of TELSTAR S.A. of Spain and as per US FDA/ UK MHRA requirements.
– SQUARE Herbal & Nutraceuticals Ltd got license in Bangladesh
– Sabazpur Tea Company Ltd was established
2006:
– SQUARE hospitals Ltd was launched
– SQUARE Pharmaceuticals was given 'ICAB National Award' for best published accounts and reports in Non – Financial Sector (Manufacturing Category)
2009: SQUARE Pharmaceuticals began manufacturing insulin, hormone and steroid products maintaining quality standards of US FDA and UK MHRA and dedicated products manufacturing facility complying with the current Good Manufacturing Practice (cGMP) of WHO.
2011: Maasranga Television, the first HD TV channel in Bangladesh, was founded
2012: SQUARE Pharmaceuticals Ltd., Dhaka Unit and SQUARE Cephalosporin Ltd. received the Therapeutic Goods Administration (TGA) of Australia approval.
2012: Samson H. Chowdhury died at the age of 86.
2015: PAI (Pre Approval Inspection) by US FDA was successful for Dhaka Site's solid dosage unit.
Tashnim is a Final year-Finance major of BBA department at Bangladesh University of Professionals. His interest revolves around entrepreneurs, their stories and taking an initiative to change society. Tashnim likes to think about technology with its impact on our business and lives.
Say 'hi' to him at [email protected]