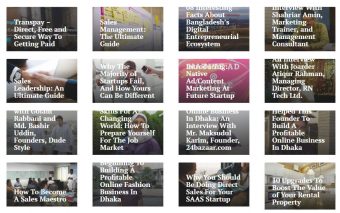 Introducing: Native Ad/Content Marketing At Future Startup
About 7 months ago, we launched, in beta, our branded content studio at FS called Storylab.
At Storylab, we design, produce and distribute powerful stories for affluent, influential, engaged, tech-savvy audiences in Bangladesh.
In short, our native ad service turns mere ads into meaningful and compelling articles, reviews, and stories and helps build a meaningful connection with your audience.
We distribute the stories through the FS website, newsletter, and social channels.
If you are interested, simply fill out this form http://bit.ly/FSnativead, our team will reach out to you.
Product Details
FS native ad is a form of paid/sponsored content (i.e. articles, stories) that we develop in collaboration with brands and publish on our website and social channels.
FS Native ad is designed in a manner which adds value to your target audience as a brand and is non-disruptive in manner.
You can use our native content ad for:
As part of your ongoing marketing/advertising campaign
Thought leadership pieces
Educational content
Product review
Explainer for a product/feature
Explainer for an offer
Custom content series
Whitepapers
Reports
Content-based microsite
Distribution – we make sure your stories reach your target audience
Future Startup website (www.futurestartup.com)
FS Weekly Newsletter (goes to over 3200 subscribers every week)
Future Startup social channels such as Facebook, Linkedin, Twitter etc
A few examples of our previous native content ad:
A few of our other valued content partners: G&R, Dhaka Bank, Ispahani MIrzapore Tea, Flight Expert Bangladesh, Hub Dhaka, Bd Venture Limited, e-Courier, BRAC Social Innovation Lab.
How we develop native content
We develop the native stories in collaboration with your marketing and brand team taking your campaign objective into consideration, then distribute through our platforms i.e. website and social feeds.
Understand your KPI
Produce powerful content
Use sophisticated distribution techniques
Report after the campaign
On the top of that, these stories remain live at FS for the lifetime. (note: our native ads are editorially independent and produced by our content studio, Storylab and maintains strict ethical guideline)
Why native ad
The sponsored native content format allows your brand to tell a little story about your work, brand, and company — sometimes directly selling the product or service, other times offering relevant information in your field (ready for some retirement planning or a wonderful tour of lifetime?), still others conveying a feel-good pro bono message (content about how much a company cares) which is often can't be done through a banner ad. (Poynter)
It allows brands to engage constructively with its target audience and educate them when it is required for providing engaging content.
According to Share Through Native Ads result in 2X more visual focus than banners and are read in the same way as editorial headlines.
Reading a Native Ad headline yields 308X MORE time of consumer attention than processing an image or banner.
Native ads registered a 9% higher lift in brand affinity over banner ads and an 18% higher lift for purchase intent over banner ads
Our audience
Demographics:
Who: Entrepreneurs, startup founders, business and tech professionals, investors and analysts, academicians, entrepreneurial-minded young professionals and students
Age: 25-34 years old – 53.84%, 35-54 years old – 20%, 18-24 – 23.92%, male 75%
Location: Bangladesh – 72.3%, USA – 7%, India – 4.9%, UK – 1.8%
Industries: startups and tech, VC/PE, Analysts, banking/finance, telecom, FMCG, Infrastructure, Marketing, media etc.
More granular details:
Executives to senior leaders: All telecom operators, major banks, MNCs and local conglomerates, major FMCG companies – Ispahani, Unilever, Kazi Food, Rahimafrooz, ACI, Meena Bazar, PRAN, Nitol Niloy, and more, Brac and many leading NGOs, and more.
Startups and teams in Dhaka
Media and publication: the Daily Star, Prothom Alo, Bdnews24.com and more
We do extremely well with business and tech students and grads from leading public and private universities in Bangladesh
Analysts at consultancies, PE firms, and VC firms
A growing number of academicians read us and use our materials in classrooms
Find out what we can do for you: please fill out this form, our team will get in touch with you or email us at [email protected]