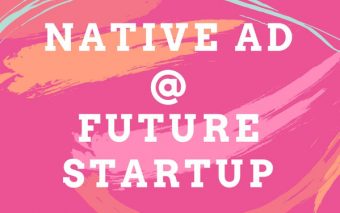 Introducing Native Ad At Future Startup
Articles/Stories on topics relevant to your brand, told intelligently that is useful to your target audience.
What is FS Native Ad:
FS native ad is a form of paid/sponsored content (i.e. articles, stories) that we develop in collaboration with brands and publish on our website and social channels. You can use our native content ad as part of your marketing/advertising campaign.
We publish sponsored native articles every week on our home feed which are now available for pre-booking for interested brands and companies. FS Native ad is designed in a manner which adds value to your target audience as a brand and is non-disruptive in manner.
How we develop native content
We develop the native stories in collaboration with your marketing and brand team taking your campaign objective into consideration, then distribute through our platforms i.e. website and social feeds.
We follow a standard procedure starting with taking the brief, then designing strategy, then content development and the publication and distribution and finally, measurement. On the top of that, these stories remain live at FS for the lifetime. (note: our native ads are editorially independent and produced by our content studio, Storylab and maintains strict ethical guideline)
A few examples of our previous native content ad:
Apart from our regular content collaboration, this is the only way to promote your product or service specifically to Future Startup's audience of entrepreneurs, CEOs/CXOs, decision makers, socially influential, affluent, business and tech professionals, troublemakers, intellectually curious bunch, change makers, ambitious and driven young people, perfectionists, and connoisseurs of brilliant insight and fine products and services.
Why native ad
The sponsored native content format allows your brand to tell a little story about your work, brand and company — sometimes directly selling the product or service, other times offering relevant information in your field (ready for some retirement planning or a wonderful tour of lifetime?), still others conveying a feel-good pro bono message (content about how much a company cares) which is often can't be done through a banner ad. (Poynter)
The sponsored native content format is value-driven in nature because the content is useful to the reader. Consequently, it helps build trust and engage your audience through value-driven communication where you essentially produce and feed content that is inherently valuable to your audience.
It allows brands to engage constructively with its target audience and educate them when it is required through providing engaging content.
According to Share Through Native Ads result in 2X more visual focus than banners and are read in the same way as editorial headlines.
Reading a Native Ad headline yields 308X MORE time of consumer attention than processing an image or banner.
Native ads registered a 9% higher lift in brand affinity over banner ads and an 18% higher lift for purchase intent over banner ads
People are naturally advertisement-averse, particularly when the said advertisement is intrusive and disruptive in nature and does not interest an audience and digital allows people to tune out of an advertisement or content that they don't want to attend to. Tools like ad-blockers and other are on the rise.
On the other hand, opening a piece of sponsored content is entirely voluntary, and the customer decides how much to read or view. Nor is the genre as susceptible to ad blockers. (Poynter).
Native content ad is the best form of digital communication that converges content, SEO and social, all at once. See graph below.
About Future Startup
Future Startup is a fast-growing digital media and knowledge hub based in Bangladesh covering business, technology, and society
Dominant age group: over 75% readers are between 20-40
A reader spend over 9 minutes on an interview
41% users return daily
Sponsorship is exclusive
Examples of past native ads and content partners.
Offers and contact details
Take action
To schedule a sponsorship or know more, please contact us at: email: [email protected] | Call: +8801814 37 9595