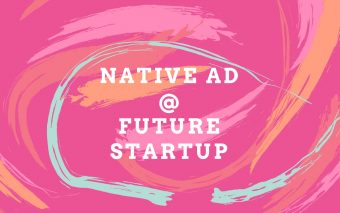 Introducing Weekly Native Ads Feed Sponsorship
Week-long sponsorships, 02 articles per week on topics relevant to your brand, narrated intelligently and engagingly that is useful to your target audience
Week-long sponsorships are available for Future Startup's native ads feed (02 articles per week on topics relevant to your brand, told intelligently that is useful to your target audience) and our weekly email newsletter.
We publish 02 sponsored native stories/articles every week on our home feed which are now available for pre-booking for interested brands and companies. We develop the native stories in collaboration with your marketing and brand team, then distribute through our platforms i.e. website and social feeds. On the top of that, these stories remain at FS for a lifetime. You may see few of our previous native stories here and here.
Apart from our regular content collaboration, this is the only way to promote your product or service specifically to Future Startup's audience of entrepreneurs, CEOs/CXOs, decision makers, socially influential, affluent, business and tech professionals, troublemakers, intellectually curious bunch, change makers, ambitious and driven young people, perfectionists, and connoisseurs of brilliant insight and fine products and services.
What we offer
Short stories/articles
Long-form customer stories/articles (like this one)
Content strategy and content series (learn more here)
To schedule a sponsorship or know more, please contact us at [email protected]
Benefits to Sponsors:
Reach thousands of affluent, influential, engaged, tech-savvy content consumers and professionals
Connect with a captive audience that is notoriously difficult to reach via strong brand association with Future Startup
Native ads and credit banners within stories remain with the interviews for a lifetime generating long-term RoI
Relate to the influencers, mavens, and connectors, and take the benefit of the law of tipping point
Establish thought leadership in your field
Help build the local knowledge infrastructure for a knowledge economy in Bangladesh
Take advantage of a comprehensive digital campaign by connecting social, search and influencer association. See image below:
About Future Startup
Future Startup is a fast-growing digital media and knowledge hub based in Bangladesh covering business, technology, and society
Dominant age group: over 75% readers are between 20-40
A reader spend over 9 minutes on an interview
41% users return daily
Sponsorship is exclusive: only one sponsor per week
Examples of past native ads and content partners.
Dhaka Bank here.
Ajkerdeal here.
Boomerang Digital here.
Bdjobs Training here.
SystemEye Technologies here.
Hub Dhaka here.
Ispahani Mirzapore Tea
SSLCOMMERZ
Take action: To schedule a sponsorship or if you are interested in learning more, please contact us at [email protected]