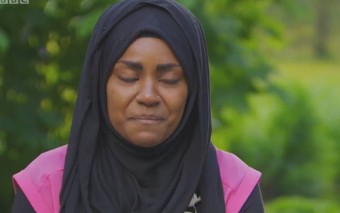 Here Is How Bangladeshi Origin Nadiya Jamir Hussain, Winner Of GBBO 2015, Broke The Internet
The news of Nadiya Jamir Hussain winning GBBO 2015 broke the internet yesterday. The Bangladeshi origin, Luton- born mother of three was the People's favorite to win of this year's competition. Nadiya, who has been baking for ten years now, described the experience as something like dream.
Morning after the night before… All feels like a dream… Somebody pinch me

— Nadiya Jamir Hussain (@BegumNadiya) October 8, 2015
After her victory British media has taken over the news by making her a over night celebrity. Here is what the Guardian has to say: "She was the bookies' favourite to win and she did. Even the prime minister is a fan of the Great British Bake Off's Nadiya Jamir Hussain. "She is so cool under pressure," David Cameron has said of the 30-year-old Leeds mother-of-three."
But this is not why Internet is so much in love with Nadiya. Here is why in a series of Photos and tweets.
This was an extraordinary way to end the show; so inspirational! https://t.co/X85lnTIpHy

— John Holland (@jiholland111) October 7, 2015
Inspiration Everywhere
THIS was the #Speech of the #Year. http://t.co/8FzEJCDlO4 @Telegraph_TV @EmmaKennedy @BritishBakeOff @BegumNadiya pic.twitter.com/Un6uq93HyM

— SousanJ London Style (@lifestylings) October 7, 2015
You see this?
Beautiful pic @BegumNadiya pic.twitter.com/tTKRuX8hSv

— Abdal Hussain (@AbdalAbuMDM) October 7, 2015
Humble
To the amazing people who gave me this opportunity. To my gorgeous baker friends. What a ride . Thank you #GBBO

— Nadiya Jamir Hussain (@BegumNadiya) October 7, 2015
You see?
OBSESSED with Nadia's facial expressions on Great British Bake Off. pic.twitter.com/SPnOiDWsOS

— Mats Strandberg (@matsstrandberg_) September 26, 2015