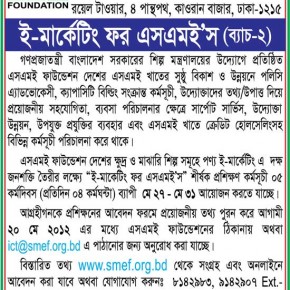 SME Foundation Bangladesh is a government organization registered from the Ministry of Commerce on 12-11-2006 and from the Registrar of Joint Stock Companies and Firms on 26-11-2006 under the Companies Act (Act XXVIII), 1994. The organization works in helping the SME entrepreneurs including the women entrepreneurs by conducting various programs with an aim to develop the SMEs of Bangladesh.
SME foundation often organizes various training programs for SME entrepreneurs. E-Marketing For SME's is one of the signature training programs targeted to skill development of SME entrepreneurs in using new media, online platforms for the benefits of their business.
Recently SME foundation calls for application for their second batch of E-Marketing course which is a non-paid 5 days training programs, 4 hours per day totaling a 20 hours training.
If you are interested you can apply for the training program. The last date of application is May 20, 2012. For details go to this link: (find here).